"Everything is really full of love for you. The good that is for you loves you as much as you love it. The good that is for you seeks you and will come flying to you if you see that what you love is love itself" —Emma Curtis Hopkins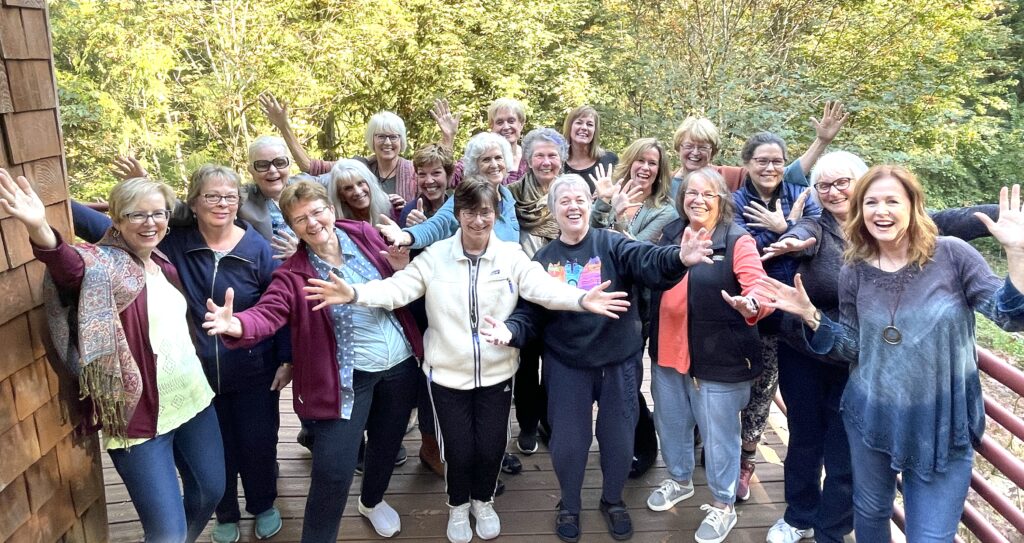 We left behind our schedules, responsibilities, and busy lives. We arrived at the beautiful Alton Collins Retreat Center with open hearts and minds. We set our intentions and allowed Spirit to guide us to the wisdom of our hearts.
The result was sheer perfection. Everything conspired to reveal a time of joy, laughter, tears, insights, rest and renewal. We met new friends and rekindled old friendships. We found connection with others and deep appreciation for ourselves. We left inspired, enlivened and open to new possibilities.
Reflections from those attending:
"I felt my heart open and the fear, doubt, resistance just melt. I loved the honesty expressed here—completely authentic. I have immense gratitude."
"This was the most unexpected amazing experience for me."
"The lovely wooded setting was perfect for the inner work we did. The activities and group sessions were varied but related. As always, I found sharing easy in the small groups."
"Everything worked for me! I felt supported, nurtured and loved! The music was beyond perfection."
"I loved the progress of the days and the way we identified situations we wanted to work on and then went deep—step by step with guidance and support. Interactions with retreat sisters were many and meaningful. The music was fantastic and supported our exploration and discovery."
"I am so grateful! I feel like I received the gift of an extended spiritual group to connect with."
"Each retreat I have attended touches me and reaches me more deeply. The women are amazing—always making new friends. Lauri's music is always spot on."
"I laughed until tears ran down my face. I moved and danced. I made loving connections with amazing women. I felt truly seen. I feel renewed!"
Give yourself the gift of sacred renewal. Let me know if you would like to be notified about our next retreat.
Save the Dates for our next retreat: October 22 – 25, 2023
Registration opens May 1, 2023