Soul Musings
by Christine Green
A computer glitch, a dead car battery, a frustrating customer service call. Any of these could be irritating annoyances that have the potential to ruin the day. Or they can be opportunities to look beyond the appearances and discover an insight, a new perspective to lift us up and transform our experience.
Soul Musings is a collection of stories, experiences and insights intended to spark a fresh idea or provoke a question that shifts your thinking. Christine invites readers to join her journey to a deeper spiritual truth, offering affirmations and journal practices to help guide the way.
This book is for anyone interested in finding truth in life's adventures while seeking a higher spiritual plane.
"Each writing within Soul Musings is a divine petal of wisdom. Christine's vulnerability and authenticity in sharing reflections of her life moments are absolutely relatable and a gift to the reader to revisit themselves. Each musing provides insight, affirmation and prompts for reflection and an opportunity to explore individual thoughts and beliefs around the freedom of faith, forgiveness, grief, grace, love, and divine soul expression. Soul Musings can be absorbed at any pace and in any order the heart calls. It is timeless." ~ Tarri C
Get my free download, the "Journey of Love" essay from my book by subscribing to book updates below.
Sign-Up to Receive My Book Updates
Anatomy of Caring
by Christine Green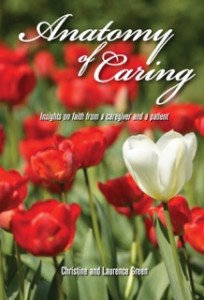 Anatomy of Caring is a personal and deeply spiritual account of Christine and her husband, Laurence's valiant journey through an incurable illness. It also serves as a journal providing a place to record feelings and includes scriptures that bring comfort and hope.
Authentic Spirituality
by Christine Green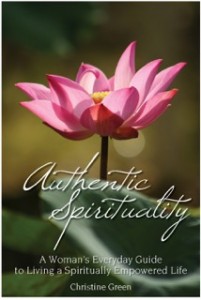 Authentic Spirituality provides insights and practical tools to move through out-dated beliefs and open the heart to more joy. Writing with clarity and warmth, Rev. Christine Green brings spiritual principles alive through case histories and her personal stories. Journal exercises give readers practical tools to release outdated thoughts and embrace spiritual principles.
Caregiver's Journal
by Christine Green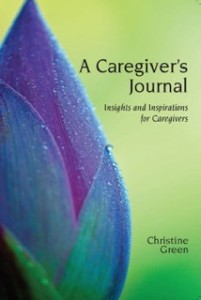 Caregiving is complex. Caregiving demands that we be patient, strong, persistent, fearless and gentle. We are called on to be advocates, listeners and negotiators while dealing with our own feelings of guilt, failure and fear. In the midst of pain, fear and sorrow, there is an awareness of love that is amazingly profound. This journal is a companion as you spend time waiting and worrying. Use it to record the fleeting joys and profound struggles of being a caregiver.
"Christine has the ability to move through Laurence's illness with such graceful surrender yet limitless courage. As a part-time caregiver for my parents, I found the questions Christine asks in the book to be very insightful. I would recommend this book to anyone who wishes to part ways with their ego and enter a more natural wholesome self." Maura H.
"Authentic Spirituality is a how-to book for women who weren't taught how to be authentic through their own empowerment. Often women were taught to have others fix their lives, cars, homes, and problems. Christine Green teaches, throughout the book that a woman must believe in herself and her own abilities, capabilities and power in order to live a fulfilling life-and she explains how. Great book for all women and mothers to pass down to their daughters." Diane D.
"Few of us plan on being a care giver. While we are willing to take up the responsibility of caring for the ones we love, most of us have no experience or training for it. Christine does a wonderful job of simply allowing us to explore and better understand the many emotional facets of what we are undertaking. Her book allows us to better care for ourselves and the ones we love." Jim D.
Bookstore and Gift Store Managers: Contact Wise Woman Press for discount pricing wisewomanpress@comcast.net (800) 603-3005