"Spring is the best life coach: It gives you all the energy you want, all the positive thoughts you wish and all the boldness you need!" ― Mehmet Murat ildan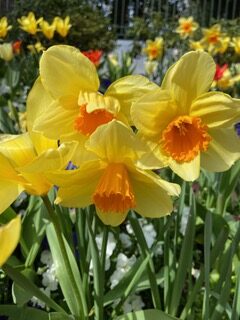 Happy Spring!
There is something wonderful about Springtime. We emerge from the grayness of winter into a kaleidoscope of color in the spring. There is such joy in seeing the flowers blooming, hearing the birds singing, enjoying extended daylight.
I wonder why many other times we resist change but there is such joy and celebration to see the transformation that springtime brings. Perhaps it is the feeling of hopefulness and expectation that things will get better.
We can cultivate that feeling of hope everyday. We don't have to wait for springtime to arrive. We don't have to wait for conditions to change in order for us to accept possibilities.
Ernest Holmes invites us to affirm:
"I know that Spirit within me goes before me, making perfect, straight, easy and happy the pathway of my experience. There is nothing in me that can obstruct the divine circuits of Life, of Love, of Beauty and Truth. Today I have faith that my word shall not return to me void."
You are loved!